This article discusses how to set up your mobile devices on the React Mobile platform when using Amadeus HotSOS
To deploy React Mobile's safety solution in your hotel, you must install and configure every mobile device that will be used by your room staff with our mobile application. React Mobile supports both iOS and Android platforms.

Device Pre-Requisites
Devices have Internet connectivity (wi-fi recommended)
Bluetooth is enabled
HotSOS mobile application is installed and registered
React Mobile Hospitality application is installed
Location Services is enabled

(Android) High accuracy is enabled (GPS and wi-fi)

Power saving mode is disabled (Android)
Registering Devices
To configure a device, it must be registered in your HotSOS installation with a unique name that the React Mobile platform can identify. The device name will also be the username for the device in the React Mobile service, so we recommend keeping it as simple as possible.
Unfortunately, when devices are initially registered in HotSOS it is auto-populated with a lengthy unique ID that is difficult to differentiate across devices. To rectify this, it is necessary to identify each device by logging into it in HotSOS, finding it in your HotSOS admin console, renaming it, and then logging in to the React Mobile platform with the new device name.
Registration Requirements
You must have:
The HotSOS administrative console installed
Administrative privileges in HotSOS
It is also highly recommended to configure the following in HotSOS prior to registering devices:
Create a "dummy" room to avoid interfering with your daily operations

The room should be configured identically to a normal room in your property

Create a test user to avoid interfering with employee operations

The employee must be a member of the Housekeeping staff or able to be assigned to a room

Device Identification

First perform these steps:
Login to the HotSOS administrative console
Create a test user and dummy room (if applicable)
Set the room status to "Dirty" and assign the room to the test user

Then perform the following steps on each device to identify it in HotSOS:
Login to the HotSOS mobile application on the device with your test user ID

You should see the room assignment for the user
On the 1st device, tap the room and then set the status to "Cleaning Started"

Switch to the HotSOS admin console and go to User Management -> Devices

If you do not see User Management, you do not have sufficient privileges in HotSOS

In the "Received By" column, find the name for your test account. This is your device.
Double-click on the device to edit the device properties
Modify the following fields:

Device: A short unique name that describes the device. We recommend a format of [device][number] such as device01 or ipod01 as applicable to your property.
Friendly Name: The same value as the Device field
Address: This value is not used but required by HotSOS. Enter any IP address (such as 123.123.123.123).
Click OK to save changes

Repeat for each device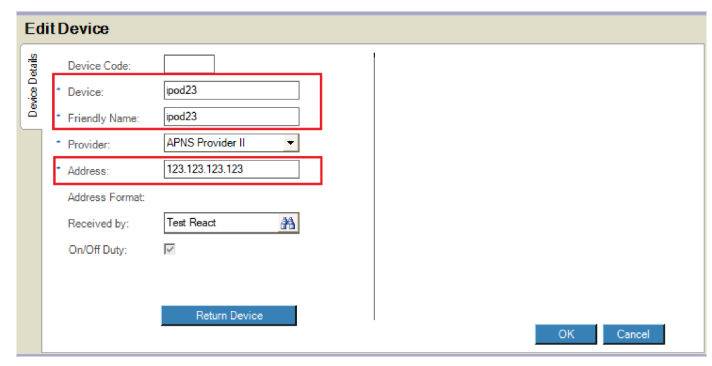 Note: If you are deploying to multiple devices, we recommend proceeding next to Installing and Configuring React Mobile and Sidekick before identifying the next device. This will help you avoid losing track of the name of each device.